FACTORY WORKS A project by Neville Gabie
Music by Nabihah Iqbal & Neville Gabie with the construction workforce of Aviva Studios, Manchester, England
Commissioned by Factory International
Celebrating the construction workforce behind Factory International's new home, FACTORY WORKS is an artwork in the form of a vinyl record.
Created by artist Neville Gabie and musician/DJ Nabihah Iqbal in collaboration with construction workers and manufacturers involved in the creation of Aviva Studios, the record mixes industrial sounds and snippets of conversations with workers – all underpinned with original electronic music.
Neville Gabie is known for creating works that respond to people and places in moments of change. Focusing on the core materials that form the infrastructure of Aviva Studios – steel, concrete, cloth, rubber, wood and glass – FACTORY WORKS was made over a two-and-a-half-year period from Spring 2020 to Autumn 2022.
Each album has a unique sleeve from design agency North, with thanks to Peter Saville. There are 1500 copies of the limited-edition artwork – available to buy online and at Aviva Studios.
Every worker from the factories together with the whole on-site workforce will receive their own copy of the vinyl album.
FACTORY WORKS is accompanied by a short film created by Neville Gabie in collaboration with Mark Thomas of film studio Soup Collective. The film is a celebration of the people, sound and skill involved in the creation of Aviva Studios and offers a glimpse behind the scenes of the build. The film features the whole workforce involved in the creation of the record.
Morning Track One – Factory Works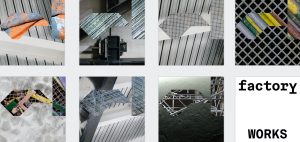 Launch event Aviva Studios, home of Factory International and Versa studios [formerly Granada TV Studios]




Neville Gabie said: "When I was invited to make a new work celebrating the people who were fabricating and constructing this huge new building, I couldn't have been more excited – and to be honest, I was also a little overwhelmed. This was a wonderful opportunity to meet engineers, builders, steel fabricators, project managers, concrete experts, timber workers, finishers, sewing machinists, glass fitters, acoustic engineers, crane drivers, security guards and office staff, and to make something as a tribute to their contributions to the city. The challenge was coming up with the right idea. It needed to be simple and unique – and, once complete, it needed to be something we could give to everyone as a tribute to their achievements."

Nabihah Iqbal said: "With all this inspiration around us, Neville and I wanted to create something all-encompassing: a soundscape of the different workplaces, interwoven with voices and music. It's been an impossible task to try and fit in all the sounds and stories that we collected over these two years or so, but I hope that what we've created offers a glimpse into the fascinating world of the people and the core materials that construct our buildings."

John McGrath, Artistic Director and Chief Executive of Factory International, said: "It's humbling to witness a great building emerge from the ground and realise how many skills and specialisms, how much care and precision, and how much hard, determined work has gone into its birth and growth. As a cultural organisation embedded in the city of Manchester, we wouldn't be doing our own work properly if we didn't find a way to express and respond to this extraordinary effort.

For further information and to order your own unique copy of the vinyl album see; https://factoryinternational.org/factoryplus/factory-works/