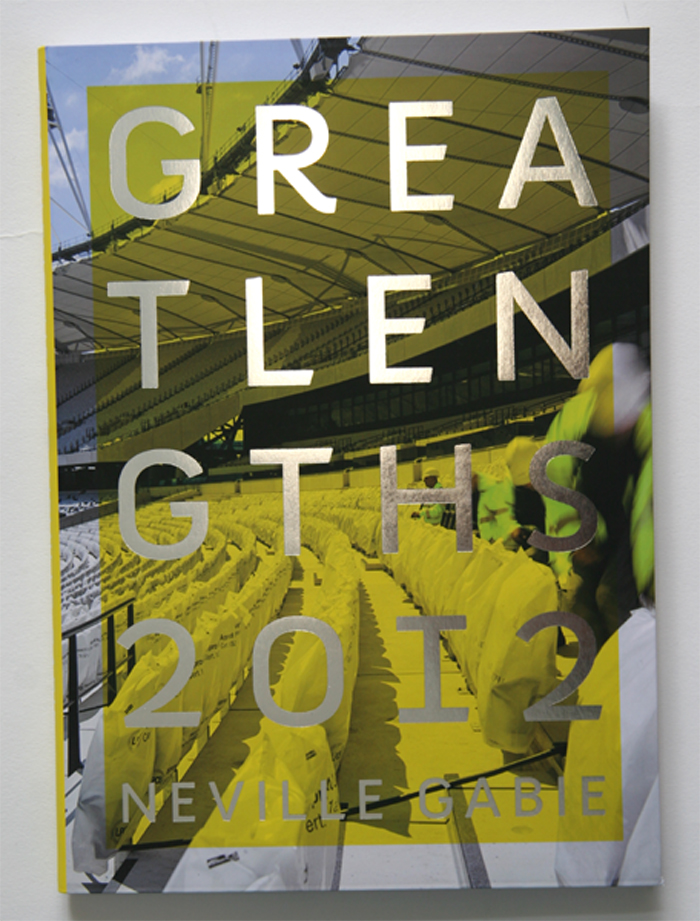 Great Lengths 2012
The Great Lengths 2012 publication brings together all the work of artist Neville Gabie made during his sixteen month residency on the Olympic Park, London during the construction of the park – September 2010 – December 2011.
Published Cornerhouse Publications 2012  www.cornerhouse.org/books ISBN978-0-9569571-4-6
Publication;
192 full colour publication with DVD and texts by;
Foreword by Dennis Hone, Chief Executive Olympic Delivery Authority
Introduction by Sarah Weir – former Head of Arts and Culture, Olympic Delivery Authority
'Body Building' Editors essay – Simon Gennan
'Georges Seitat, Une Baignade, Asnieres, a socio-historical perspective – Professor Richard Thompson
Interview texts – Semra Yusuf, bus driver on the Olympic Park,
Artists interview texts  with former Carpenters Road artists – Anotni Malinowski, Roger Kite, Patricia Barker, David Oates
Unearthed text Jonathan Harvey Chief Executive Acme Studios.
Edited Dimon Grennan  Designed Alan Ward Axis Graphic Design
thanks to; London Legacy Development Corporation, Lottery, Arts Council England, Olympic Delivery Authority Insite Arts
Commissioned by the Olympic Delivery Authority Arts and Culture Team, the ambition of the residency was to give visibility to what was happening onsite during the construction phase. Neville Gabie was commissioned with a completely open brief and invited to respond to what he encountered. The publication aims to give an insight to the working processes of a resident artist.
A website dedicated website to the project www.greatlengths2012.org.uk