The Edge of Things
a commission by Neville and Joan Gabie for the National Trust, Trust New Art Programme, Blickling Hall, Norfolk. May 16th 2019 to October 27th 2019
https://www.nationaltrust.org.uk/blickling-estate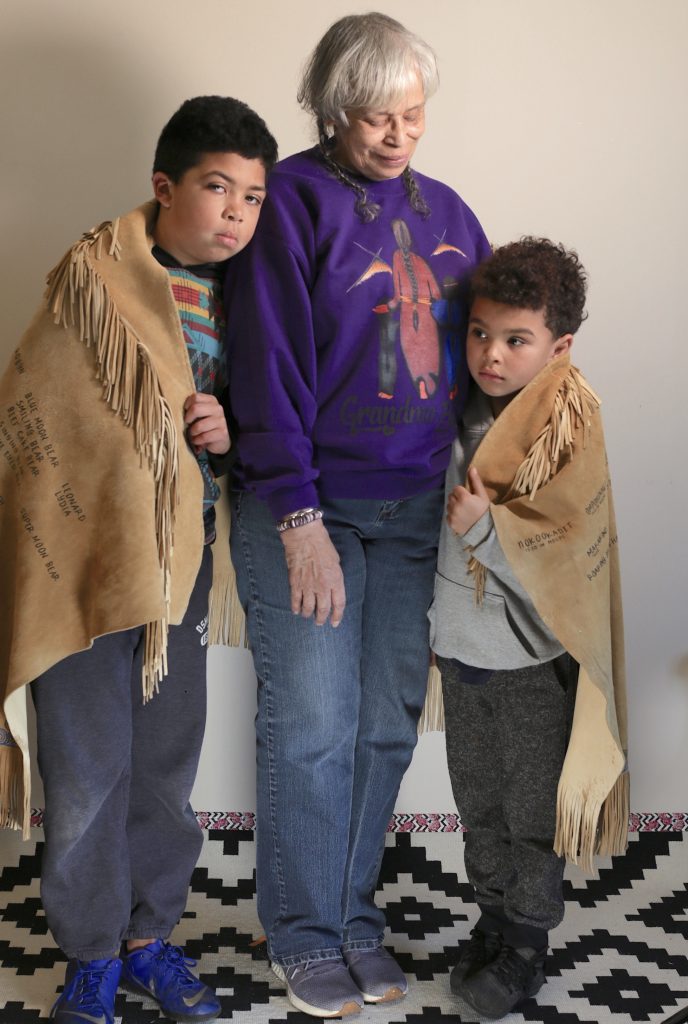 Neville and Joan Gabie were commissioned by the National Trust to develop a new commission in response to Blickling Hall's famous library. A library of 12,500 books collected by Richard Ellis [1683 – 1742] covering a wide range of subjects predominantly from the Age of Enlightenment. The artists chose to develop work based on six books responding to four themes, Language, Natural History, Astronomy and the early Microscopic work of Robert Hooke.
LANGUAGE – The Eliot Wampanoag Bible
The Eliot Bible, printed in Cambridge Massachusetts in 1663 was the first Bible and the third ever book to be printed in North America. Eliot travelled to New Plymouth in 1630 was keen to convert the local Native American communities [Wampanoag] and set about learning the language and phonetically. With considerable local help, the entire bible over a ten year period and printed in an edition of 500. Almost all were destroyed within a few years after the violent and destructive war of 1675/6, which effectively decimated most First Nation people on the eastern seaboard. By the mid 1700's it was illegal to even speak Wampanoag and within a few years it became a lost language.
However about 30 years ago one woman Jessie Lillte Doe Baird, had a vision to bring the language back into use – a living language for the Wampanoag once again.
One of the few language resources was the Eliot Bible!
Today there are numerous fluent speakers and the language is taught in four primary schools as well as secondary schools around Mashpee, Cape Cod and Aquinnah on the island of Martha's Vineyard.
See the Wampanoag Language Reclamation Project http://www.wlrp.org
We wanted to bring the sound of this once lost language back to the Library at Blickling and have installed a sound installation into the Long Gallery. In addition there is a film installation in the adjacent Upper Anti Room based on conversations with the community at Mashpee. This project would not have been possible without the fantastic help and support from Jessie Little Doe Baird and the whole community of Wampanoag Language Speakers.
NATURAL HISTORY – After Gesner.
Konrad Gesner [1516-1565] Swiss naturalist, physicist and doctor typifies the 'Age of Enlightenment'. Best known for his 'Historia Animalium', a work in 5 volumes in which he sought to catalogue every living creature on earth. He did so based on his own research as well as the descriptions of what others had seen. As a result the books contain a fabulous range of creatures, most fairly accurate, some wildly speculative. In order to illustrate the 5 volumes, Gesner relied on the work of many artists to create the numerous woodcuts.
It is this collaborative approach in making that inspired the work you will see at Blickling.
Joan Gabie set about creating a series of drawings inspired by Gesner before translating these into tapestry designs. In a contemporary collaborative approach, these designs are being reinterpreted and made by several volunteers, many who work at Blickling Hall.
The final work will be displayed at Blickling Hall this autumn/winter. In the meantime a room has been dedicated to the ongoing 'live' project where visitors can see the drawings, completed tapestry panels and if you are lucky, some of the volunteers working on the panels.
MICRO / MACRO
Holding a Grain of Sand – Carrying the Moon – Splitting Earth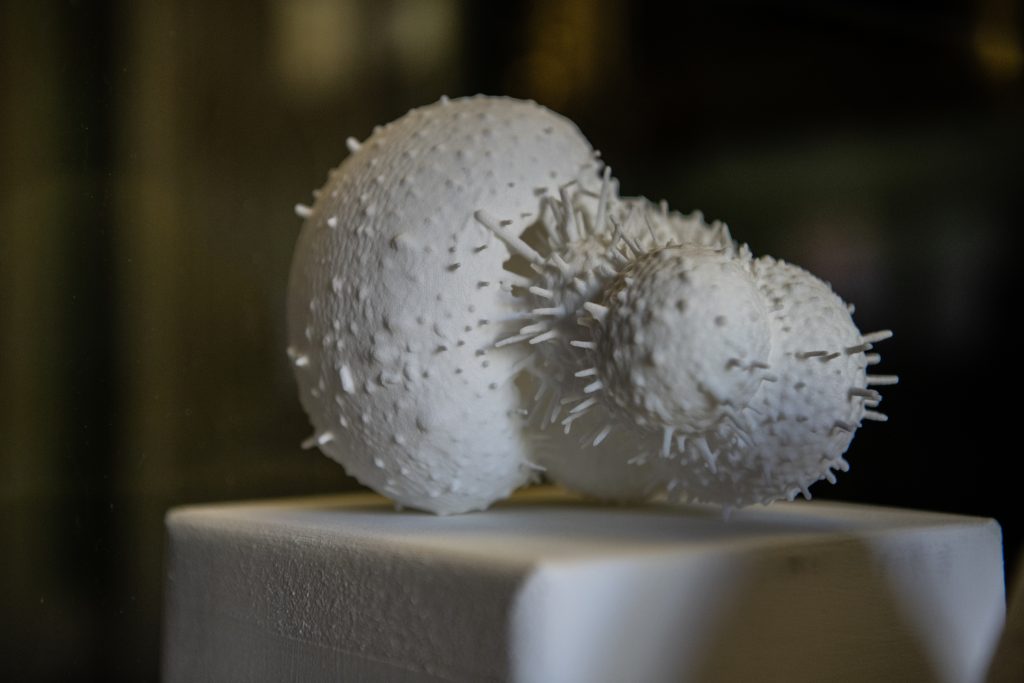 Robert Hooke, a contemporary of Isaac Newtown is considered to be the forerunner of Microscopic research. His book Micrographia – of small bodies [1665] was shocking in its day, showing a wide public images of things not visible to the naked eye, most famously his large scale drawing of a flea.
Observing the world through microscopes has fundamentally revolutionised our perception. With this in mind we developed a project in collaboration with Professor Daniela Schmidt, a leading scientist in climate research at Bristol University.
A paleobiologist, her research of Foreminifara fossils going back many millions of years, allows her to build a timeline of historic climate change, the temperatures of oceans, the chemical makeup of oceans and the CO2 in the atmosphere historically. This information is key to understanding how our climate might change in the future and the implications of that.
The Foram fossils are often smaller then a 10th of a millimetre. I wanted to film one rotating to project at a large scale – a proposition that required significant effort!
see; http://www.bristol.ac.uk/cabot/
Carrying the Moon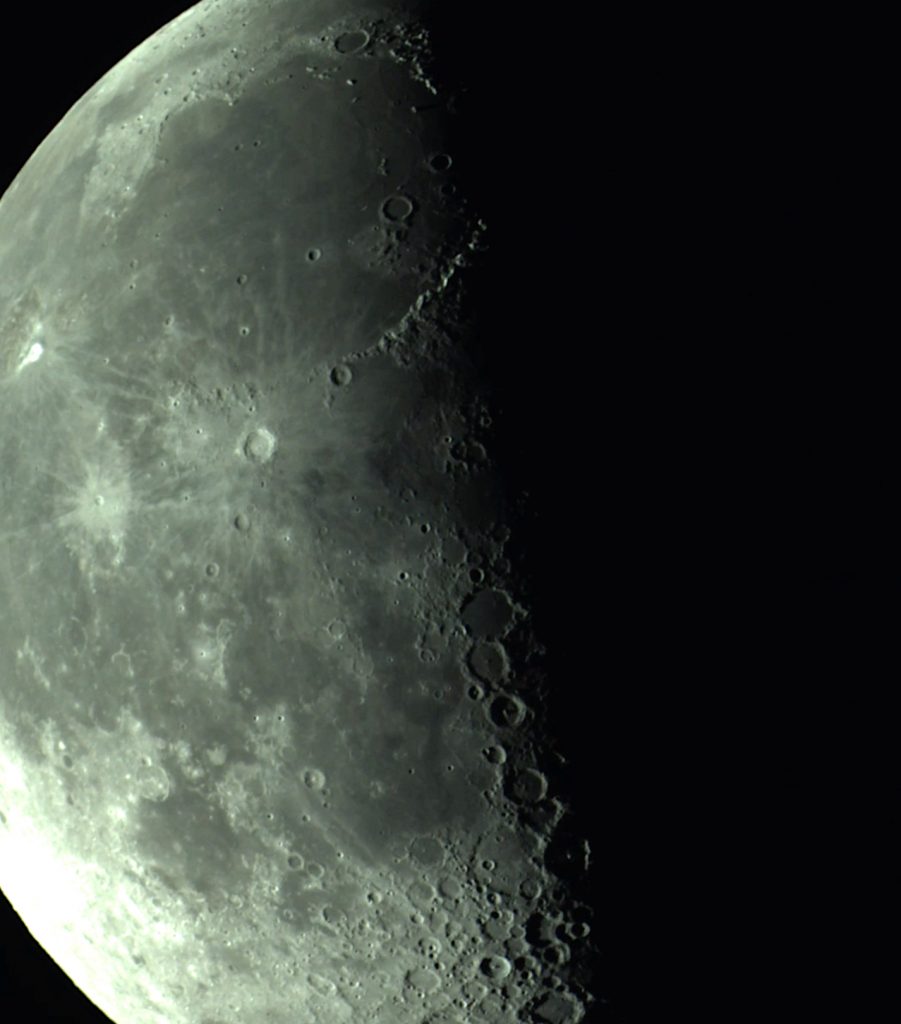 The library contains several Star Atlases and astronomy books. In particular we found two of great interest. Sphera Mundi, Johannes de Sacro Bosco, printed in 1478 and Harmonia Macrocosmica, printed in 1661.
Finding these two books inspired us to make contact with a group of local amateur astronomers, the North Norfolk Astronomy Society to understand the continued fascination with our galaxy, in particular, the moon.
We worked with two key members, David Jackson and Andrew Glossop, [who filmed to moon for us] to create an installation, a counterpoint to the Grain of sand.
http://reephamobservatory.co.uk
Splitting Earth
Located adjacent to the two Micro/ Macro video installations in the Orangery at Blickling Hall is a performance video work of a large block of chalk being methodically split
The Books Joan and Neville chose to respond to
Eliot Bible – printed in Cambridge Massachuesetts 1663
Micrographia, or Minute Bodies – Robert Hooke 1665
Harmonia Macrocosmica 1661
Sphaera Mundi – Johannes De Sacrobusso – 1478
Historia Animalium – Conrad Gessner 1551- 1558
FUNDERS AND PARTNERS. with thanks to;
Arts Council, Lottery Funding, The National Trust, Trust New Art, Bristol University, University of East Anglia, Norfolk and Norwich Festival, BookHive, Wampanoag Language Reclamation Project, Reepham High School, North Norfolk Astronomy Society
We would also like to express our particular thanks to all the staff and volunteers at Blickling House who have been a pleasure to work with over the last 18 months. Also to Nichola Johnson who has encouraged and supported us throughout.