Experiments in Black and White – ongoing series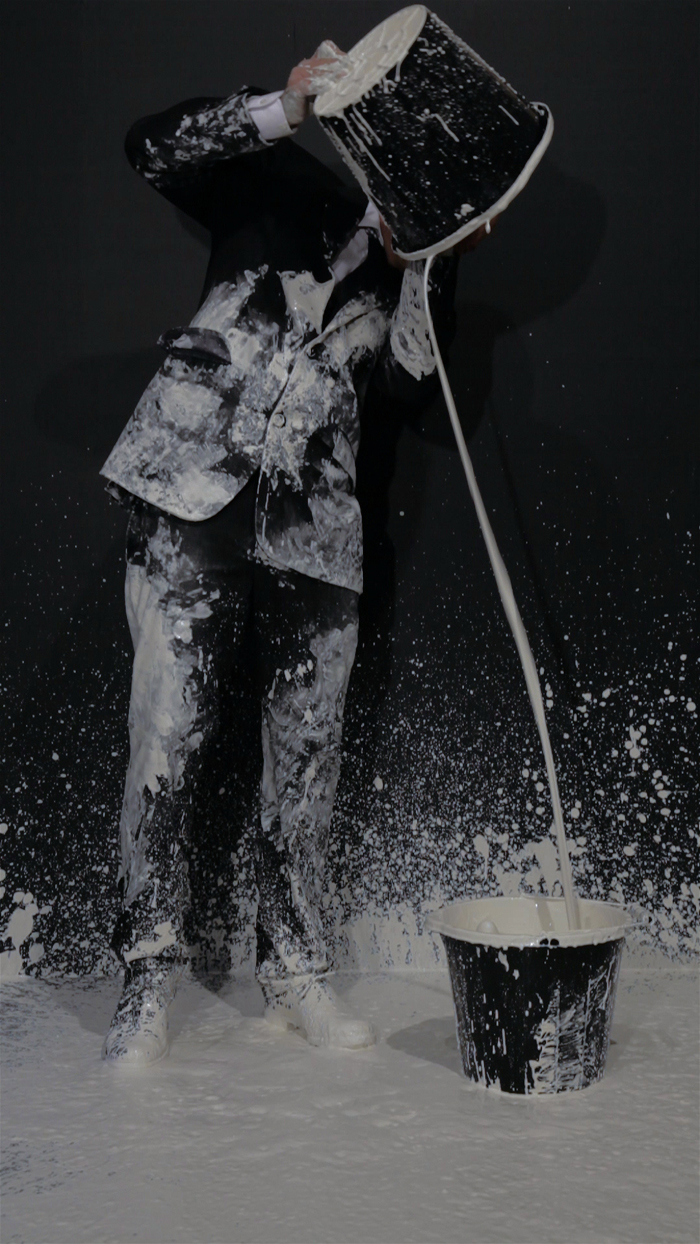 Experiments in Black and White 9 – Cabot Institute Bristol University 2012/13
Neville Gabie was invited to spend one year as their artist in residence at the Cabot Institute, Bristol University, funded by The Leverhulme Trust. The Cabot institute brings scientists, academics and others concerned with all aspects of climate change together within a research environment. With the broad range of research undertaken from the physical to the social and political potential impact of climate change, it was an opportunity to experiment with my own practice within a highly stimulating environment. In its first iteration Experiments in Black and White focused performance based works using there specific material – crude oil, ice and chalk; all materials which directly related to ongoing climate research.
Since then Experiments in Black and White has evolved into an ongoing series of performance based works made in the studio and in specific locations and which consider much wider themes closely related to Neville Gabie's wider practice. The title is based on our need for certainty in a world which is anything but clear-cut. It that sense it still refers back to the work at Bristol University where the work of scientific climate research is the process of mitigating risk and seeking solutions.
Experiments in Black and White XXX 2020
The work developed from a research project with UCL [University College London – Trellis Art/Science commission] into the impact of Motor Neurone Disease. As part of the research, Professor Al-Chalabi, Kings College Hospital, introduced Neville to Mrs Begum, a woman in the last stages of NMD. This work is based on conversations with her into the debilitating effects of MND. Much of that research remained unresolved until it found a fusion with Neville Gabie's own concerns in performance, drawing and endurance. With shoes nailed to the floor, the work explores the limits of reach, and movement. Confined to the studio, in a strange irony, this work only found its final form during the last few weeks of the 'lockdown', a time when all our social interactions and movements have been drastically limited as a result of Covid19.
Experiments in Black and White IXXX – filmed in Richmond, South Africa – Modern Art Projects 2019
Experiments in Black and White VII Work developed using large natural borders of chalk. This body of work [which has since been reproduced as 'live' performance works at the Pier Arts Centre, Orkney, The Museum of Art, Craiova, Romania, Danielle Arnaud Gallery, London, M2 Gallery, Peckham Arts Festival] was first developed whilst working on a Leverhulme funded research project with the Cabot Institute, Bristol University – working with climate change research.
Experiments in Black and White XIII Filmed in Richmond, Northern Cape Province, South Africa. The work was made during a residency with Modern Art Projects, South Africa. It involved an eight hour performance, standing on a block of ice whilst it gradually melted.
Experiments in Black and White XXV DUST – Five short films using the material Bideford Black, a natural coal based material dug from the cliff face on the Devon Coast. The films were a collaboration by Neville and Joan Gabie, commissioned for the Burton Art Gallery, Bideford 2018
Experiments in Black and White XVI – A Film for Jappie. Filmed in Richmond South Africa – Modern Art Projects. The film is made in tribute to Jappie, resident in Richmond, Northern Cape, South Africa. This trailer is from a longer video installation first exhibited on three free-standing life-size screens at the Danielle Arnaud Gallery London
Experiments in Black and White IV Filmed in Aalborg, Denmark by the side of a motorway. 2011