Breaking Ground – 2013/16
Breaking Ground – Art Archaeology and Mythology
A Project by Lead Artist Neville Gabie, working with Roman Archaeologist Jason Wood and Robert Nichols, Professor Chris Gaffney from Bradford University, with artists Alan Ward, Louise O'Reilly, Oliver Palmer and Giorgio Garippa, local historian David Pendleton and the numerous Bradford Park Avenue fans and club. Funded by Arts Council England and the National Football Museum, Manchester. Completed Autumn 2016. An exhibition of the work will take place at the National Football Museum in spring 2017
Breaking Ground is the culmination of a two year project initiated as the reusult of a trip to visit the long abandoned former football ground of Bradford Park Avenue, by Neville Gabie and Jason Wood in 2013. A ground that once boasted a capacity of 35,000 people, with a double sided Archibald Leich Stand, had been demolished leaving a terrace overrun by nature. In amongst the 30 year old trees, the concrete terraces are still intact, hidden under a shroud of leaves. Bradford Park Avenue was once a top-flight club, the first major club to go bankrupt leaves fans without a club to support. Finding this lost gem with such a wealth of history, inspired us to develop a project with archaeologists, artists, fans and historians working together bringing life to this lost moment in time. Art- Archaeology – Mythology
It began with a world first – an archaeological excavation of a goalpost hole in 2013 and lead to a complete geophysical survey of the former pitch, to commissioning sound artists responding to the data, a botanical artist to record and document all the trees and plants that have since 'self-seeded, to recreating historical moments of play from old photographs, and to casting the goalpost holes. We uncovered a light-bulb and a Victoria Cross in the National Football Museums Archive and numerous extraordinary stories from fans – including the now infamous story of goalkeeper Chick Farr and a nappy pin.
The first recorded archaeological excavation of a goalpost hole. Bradford Park Avenue 2013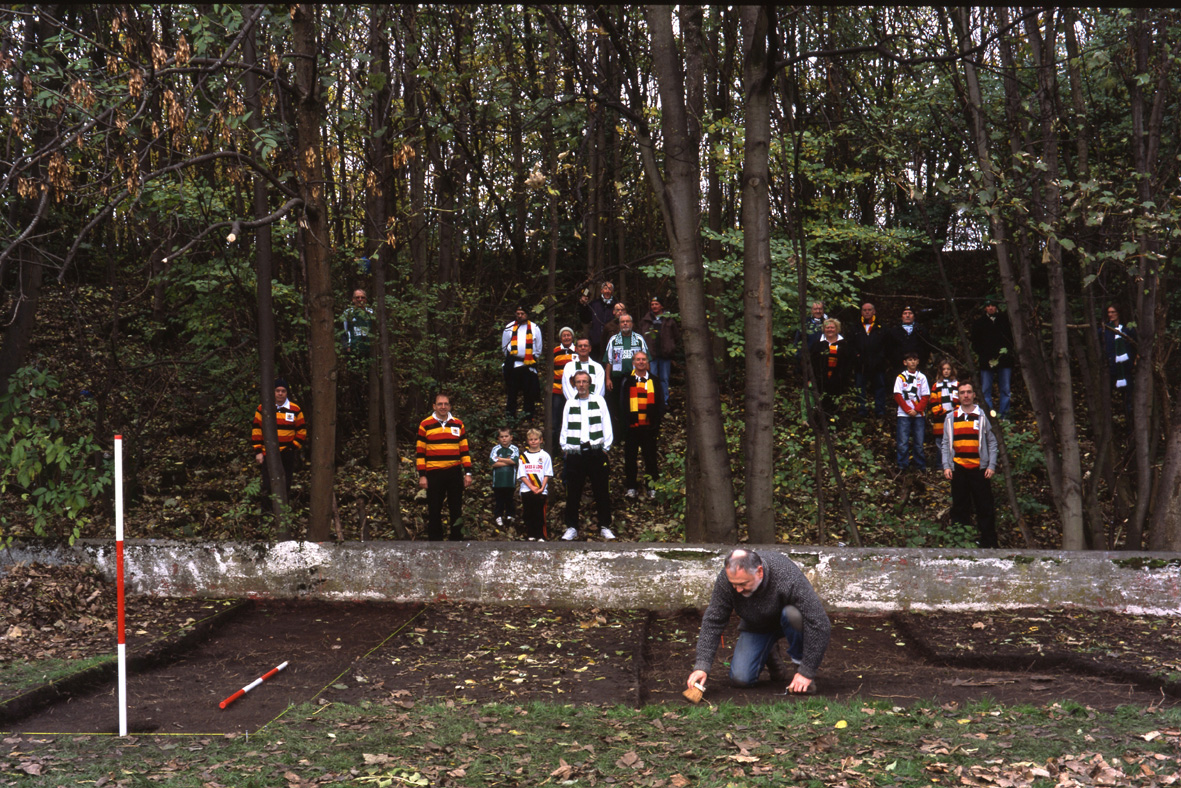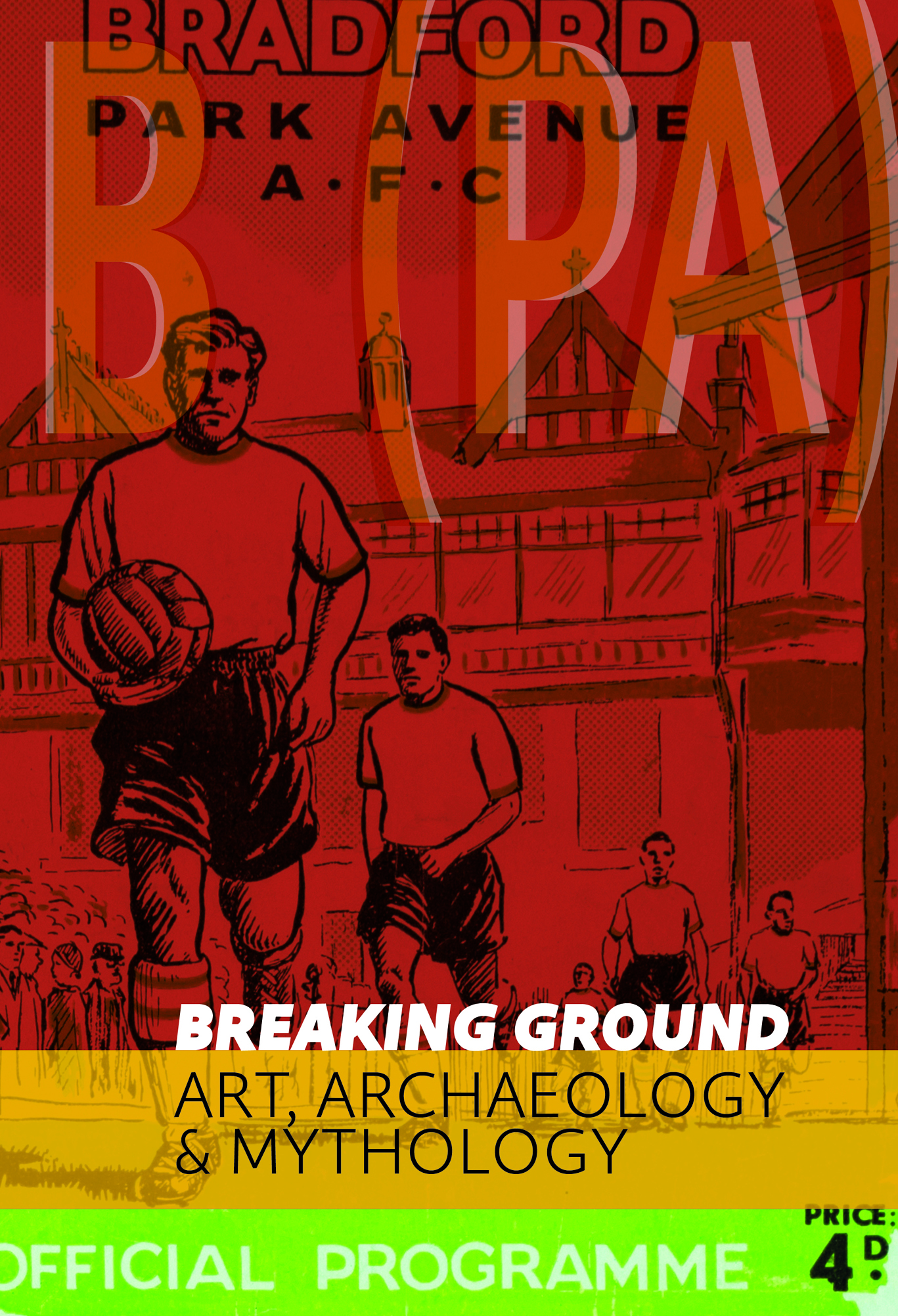 A full colour 152 page hard-back publication, which includes a DVD of the archaeology, the fans and the art is now available to purchase online. It's available via paypal or card online at:
Breaking Ground Publication Press Release
http://www.axisgraphicdesign.co.uk/appublishing/breaking-ground-art-archaeology-mythology-2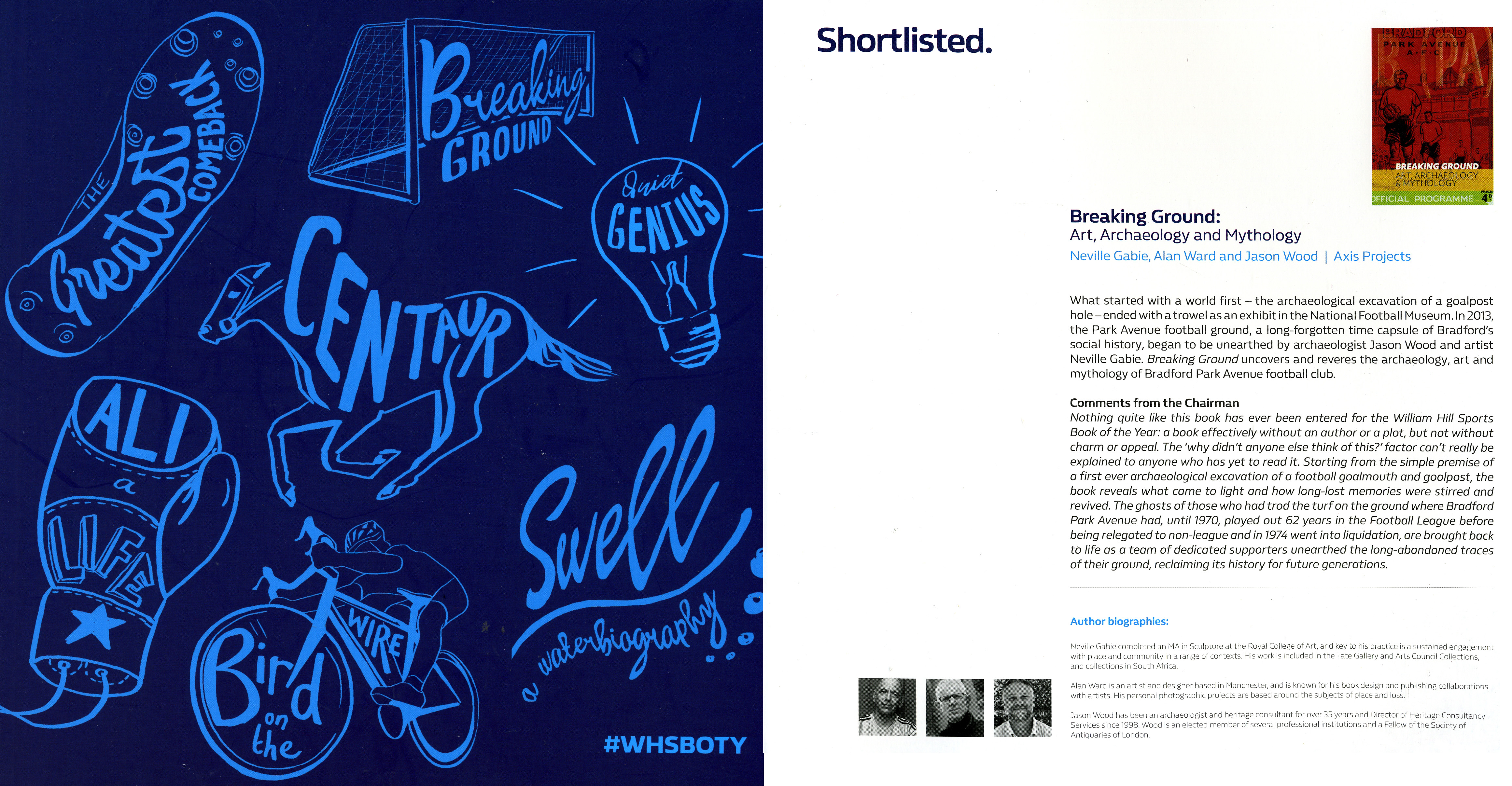 Breaking Ground – The publication
SHORTLISTED – Breaking Ground was shortlisted for the prestigious William Hill Sports Book of the Year 2017. Just seven sports books from several hundred put forward were shortlisted for the awards at the BAFTA building, Piccadilly, London. Whilst we did not win the award, for a crowd-funded arts publication to make such a shortlist, was unique in itself.
The project an publication was reviewed and featured in numerous national and local newspapers as well as on radio 4, Yorkshire Television etc.
See PDF for some of the links; web links for breaking ground – website
See; https://news.williamhill.com/sport/sports-book-of-the-year/
The edition is now sold out.
One Minutes Applause – Neville Gabie 2015
Save
Save
Save