The Promised Land – project and publication
THE PROMISED LAND
The final publication in the set of four charts two specific permanent pieces of work developed by Neville Gabie at Cabot Circus. 'A Weight of Stone Carried From China For You' and '100% Ford Mondeo'. The two works, a granite curb stone and two concrete columns can be seen in Penn Street, Braodmead and the third floor of the Cabot Circus carpark.
A Weight of Stone Carried From China For You is a journey Neville Gabie made to fetch a Granite curb stone from a quarry in China, bringing it back to Bristol in Truck, Trains, Ferry and car. Once back in Bristol the stone was installed into the street as part of all the repaving for Cabot Circus using Chinese Granite. The intention of the journey was to consider the global trading networks involved in contemporary construction projects and to highlight the carbon footprint of such trading.
100% Ford Mondeo All the steel used to construct the carpark at Cabot Circus is recycled and in an attempt to reveal that legacy, Neville Gabie followed the journey of one specific quantity of steel. Having purchased a car on Ebay, he then recorded it's journey through the scrapping and smelting process. Once the steel from the car was made into re-bar he followed it's journey back onsite where it was used to support two concrete columns in the carpark.
The Promised Land The publication also includes a video work The Promised Land filmed during the opening event for the Cabot Circus shopping centre. Opened in September 2008 and the beginning of the financial crisis, the video describes the blind optimism of consumerism.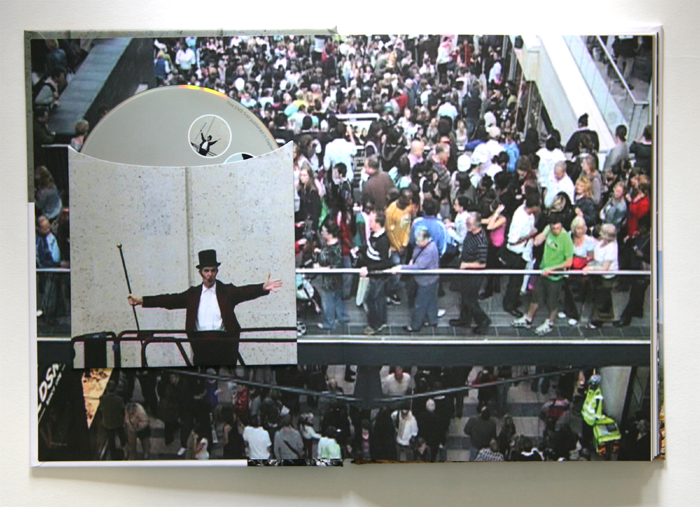 The publication has two texts; 'The Secrets of Human Existence' by Tessa Jackson and 'Where is the Public in Public Art – The pioneering Work of Neville Gabie' by Peter Jenkinson
Published Insite Arts 2009 ISBN 978-0-9561407-0-8 Design Alan Ward www.axisgraphicdesign.co.uk Editor Helen Tookey