Archiving Oil– Rock Store, Earth Sciences Bristol University. May/June 2013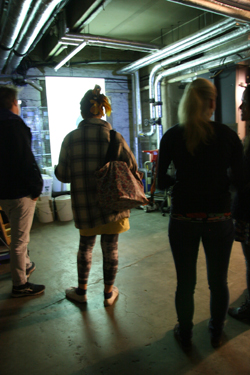 Neville Gabie spent eighteen months working part-time as artist in residence with the Cabot Institute at Bristol University, funded by the Leverhulme Trust. The Cabot institute brings together academics and scientists from all departments and across several universities, researching risk, uncertainty and climate change. Whist there Neville worked with three materials in particular, Ice, Chalk and Crude Oil.
Towards the end of the residency, working with Social Geographer Merle Patchett and archivist of the Geology Collection, Claudia Hildebrant, a number of the films were installed in the 'Rock Store' in the basement of the University. It was an opportunity to show the work to a public audience in an area of the university which is never normally open.