This project has a dedicated website https://www.cambridgerules1848.com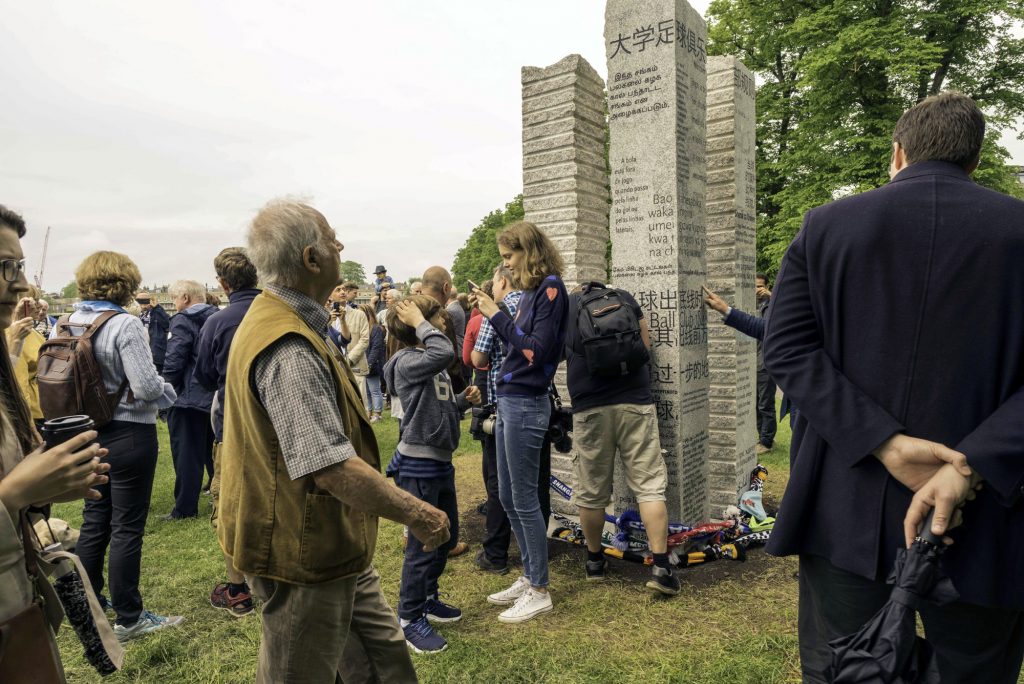 Cambridge Rules 1848 – a sculpture across the world
Artists Neville Gabie and Alan Ward were commissioned by the Cambridge Arts Steering Group on behalf of Cambridge City Council to create an artwork marking the location where The Cambridge Rules were first implemented
In 1848 a group of students from the university agreed on one set of rules by which to play football on Parker's Piece. These 11 rules are the first rules for football in the modern era. Almost entirely adopted by the FA when drafting the FA rules in 1863, it could be said that Parker's Piece itself is the birthplace of football as we know it.
To echo the global spread of the game and its ability to empower across social, economic racial and gender, the concept of the work involves;
A single large block of granite, etched with the Cambridge Rules in numerous languages – then split into 9 vertical columns. 4 were installed on Parkers Piece in May 2018 – 5 are being sent to vert different worldwide locations.
One has been installed at the Maracana Stadium, in Rio, Brazil
One has been installed at Shanghai Shenua FC, youth training ground in China
One has been installed at a youth project for street children in Chennai, India
Two others are currently on their way to Mombassa Kenya and the Middle East.




A book of the project is due to be published in Autumn 2019 once all the stones are located and documented.

With thanks to our project Partners Street Child United.

See. https://www.streetchildunited.org

Save

Save

Save

Save